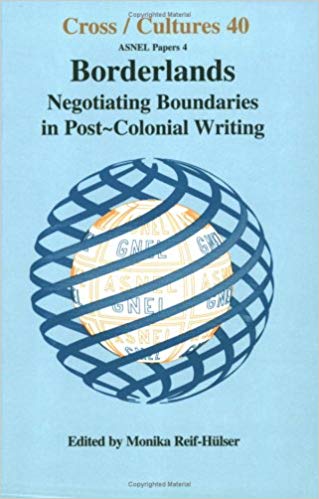 Boundaries, borderlines, limits on the one hand and rites of passage, contact zones, in-between spaces on the other have attracted renewed interest in a broad variety of cultural discourses after a long period of decenterings and delimitations in numerous fields of social, psychological, and intellectual life.
Anthropological dimensions of the subject and its multifarious ways of world-making represent the central challenge among the concerns of the humanities. The role of literature and the arts in the formation of cultural and personal identities, theoretical and political approaches to the relation between self and other, the familiar and the foreign, have become key issues in literary and cultural studies; forms of expressivity and expression and question of mediation as well as new enquiries into ethics have characterized the intellectual energies of the past decade. The aim of Borderlands is to represent a variety of approaches to questions of border crossing and boundary transgression; approaches from different angles and different disciplines, but all converging in their own way on the post-colonial paradigm.
Topics discussed include globalization, cartography and ontology, transitional identity, ecocritical sensibility, questions of the application of post-coloniality, gender and sexuality, and attitudes towards space and place. As well as studies of the cinema of the settler colonies, the films of Neil Jordan, and 'Othering' in Canadian sports journalism, there are treatments of the Nigerian novel, South African prison memoirs, and African women's writing. Authors examined include Elizabeth Bowen, Bruce Chatwin, Mohamed Choukri, Nuruddin Farah, Jamaica Kincaid, Pauline Melville, Bharati Mukherjee, Michael Ondaatje, and Leslie Marmon Silko.
Table of Contents
Acknowledgements.
Introduction.
I BOUNDARIES OF THEORY
Frank SCHULZE-ENGLER: Changing Spaces. Globalization, Migration, and the Post-Colonial Transition.
Zbigniew BIALAS: Ambition and Distortion. An Ontological Dimension in Colonial Cartography.
Martina GHOSH-SCHELLHORN: Spaced In-Between. Transitional Identities.
J.E. ELLIOTT: What's 'Post' in Post-Colonial Theory?
II RECLAIMING HISTORY AND MEMORY
Aleida ASSMANN: Space, Place, Land. Changing Concepts of Territory in English and American Fiction.
Judie NEWMAN: Spaces In-Between. Hester Prynne as the Salem Bibi in Bharati Mukherjee's The Holder of the World.
Monika GOMILLE: Curiosity in Post-Colonial Discourse. Bruce Chatwin's In Patagonia.
Gabriele RIPPL: "I Do Not Take Messages from Dead People". Cultural, Linguistic and Personal Boundaries in Pauline
Melville's Shape-Shifter.
III REPOSSESSING GENDER
Felicity HAND: Negotiating Boundaries in the Horn of Africa. Women in the Fiction of Nuruddin Farah.
Flora VEIT-WILD: Borderlines of the Body in African Women's Writing.
Claire CONNOLLY: (Be)longing. The Strange Place of Elisabeth Bowen's Eva Trout.
Emilia IPPOLITO: Room as a Catalyst of Differences. In Search of Autonomous Subjectivity in the Caribbean (Con)text of Jamaica
Kincaid.
IV IMAGINARY SPACES
Gamal ABDEL-SHEHID: Can't Forget Ben. Representational Ambiguities and Canadian Nationalism.
Norbert PLATZ: Rediscovering the Forgotten Space of Nature. A Plea for Ecocriticism in the New Literatures in English.
Werner SEDLAK: Ways of Appropriating Space in South African Prison Memoirs. From Ruth First to Nelson Mandela.
Jesús L?"PEZ-PELÁEZ CASELLAS: Forms of Exile in the Narrative of Mohamed Choukri and Joyce's Portrait.
V SHIFTING THE BORDERS – STAGING THE DIFFERENCE
Nicholas DALY: Post-Colonial Carnival (?) Neil Jordan's The Crying Game.
Gordon COLLIER: Catching Up on the Third World? Post-Coloniality in the Cinema of the Settler-Colonies.
Monica TURCI: People In-Between. Running in the Family as Fictional Biography.
Walter G?-BEL: Teaching Nigerian Novels. Hermeneutic and Didactic Aspects.
VI CODA
Monika REIF-HÜLSER: Cross-Cuts. In Lieu of a Résumé.
Contributors.