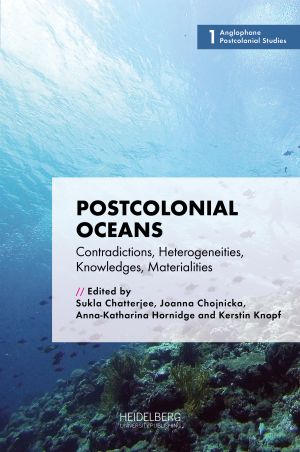 Postcolonial Oceans: Contradictions, Heterogeneities, Knowledges, Materialities
Anglophone Postcolonial Studies 1.
Sukla Chatterjee, Joanna Chojnicka, Anna-Katharina Hornidge, Kerstin Knopf (eds.)
heiUP, Heidelberg, 2023.

order
Dieses Buch leistet einen Beitrag zur Untersuchung von Ozeanen, Meeren, Küstengewässern und Flüssen im Kontext der Blue Humanities, indem es sich dem Thema Wasser aus verschiedenen epistemologischen, narratologischen, geografischen, kulturellen und disziplinären Perspektiven nähert und diese miteinander vernetzt.
Die Beiträger:innen aus Afrika, Asien, der Karibik, Europa, Nordamerika und dem Pazifik beschäftigen sich mit den Verflechtungen zwischen Ozeanen, Küstengebieten, Flüssen, Menschen, Tieren, Pflanzen, Organismen und Landschaften in den Bereichen Kulturgeschichte und Kulturwissenschaften, critical race theory und postkoloniale Studien, Meeres- und Umweltstudien, Linguistik, Literatur-, Film- und Medienwissenschaften.
Sukla Chatterjee ist Dozentin an der Universität von Aberdeen für anglophone postkoloniale Literaturen und Kulturen. Ihre Forschungsinteressen liegen in den Bereichen Frauen und Reiseerzählungen im kolonialen Indien, Blue Humanities, dystopische Literaturen und Studien zu Hunger in Literatur.
Joanna Chojnicka ist Marie-Sk?odowska-Curie-Stipendiatin an der School of Modern Languages der Universität Cardiff (Wales) und arbeitet an dem Projekt "Trans in Translation: Multilingual Practices and Local/Global Gender and Sexuality Discourses in Polish Transition Narratives". Ihre Forschungsinteressen umfassen Gender-, Sexualitäts- und Diskursstudien, Mehrsprachigkeit, Übersetzung und Minderheitensprachen sowie postkoloniale, queere und ökologische Ansätze in der Linguistik.
Anna-Katharina Hornidge ist Direktorin des Deutschen Instituts für Entwicklung und Nachhaltigkeit (IDOS) und Professorin für Globale Nachhaltige Entwicklung an der Universität Bonn. In ihrer Forschung beschäftigt sie sich mit Wissens- und Innovationsentwicklung sowie mit Fragen der Governance natürlicher Ressourcen in der Landwirtschaft und Fischerei in Asien und Afrika. Anna Hornidge ist als Fachberaterin auf nationaler, EU- und UN-Ebene tätig: als Mitglied des Wissenschaftlichen Beirats der Bundesregierung Globale Umweltveränderungen (WBGU), als Co-Vorsitzende (mit Gesine Schwan) von SDSN Deutschland und als Mitglied des Vorstands der deutschen UNESCO-Kommission.
Kerstin Knopf ist Professorin für Nordamerikanische und Postkoloniale Literatur- und Kulturwissenschaften an der Universität Bremen und Direktorin des instituts für postkoloniale und transkulturelle studien (INPUTS) sowie des Bremer Instituts für Kanada- und Quebec-Studien (BIKQS). Derzeit ist sie Präsidentin des International Council for Canadian Studies (ICCS, 2021-23). Ihre Forschungsschwerpunkte sind indigene Filme und Literatur, postkoloniale Studien mit Fokus auf Nordamerika und den pazifischen Raum, Blue Humanities, postkoloniale Wissenssysteme und amerikanische und kanadische romantische Literatur.
Table of Contents
KERSTIN KNOPF, SUKLA CHATTERJEE, JOANNA CHOJNICKA, ANNA-KATHARINA HORNIDGE:
Introduction–Postcolonial Oceans
Contradictions, Heterogeneities, Knowledges, Materialities
Oceans and Knowledges
RAPTI SIRIWARDANE-DE ZOYSA:
Interview with Robbie Shilliam and Nicholas Faraclas
KARIN AMIMOTO INGERSOLL:
Seascape Epistemology
An Embodied Knowledge
NICHOLAS FARACLAS, CARLOS RODRÍGUEZ IGLESIAS:
Subaltern Currents and Transgressive Waves
Transoceanic Agents and "Creole Languages"
KERSTIN KNOPF:
Postcolonial Sea Fiction
Salt Water and Marine Knowledges in Fred D'Aguiar, Dionne Brand, and Kiana Davenport
Oceans and Islands
BILL ASHCROFT:
Oceans
The Space of Future Thinking
STEFANIE MUELLER:
Sketches of Salt Water Poetry
Herman Melville's "The Encantadas, or The Enchanted Isles"
SEBASTIAN JABLONSKI:
A Different Kind of Hybridity–An Early British Depiction of Pitcairn Islanders
Oceans and Ports
VARSHA PATEL:
Earlier Sailing Boats Moved ("Pehla Vahano Halta")
Memories, Princely Ports and Routes of Sailing Boats along the Bhavnagar Coast, Gujarat, Western Indian Ocean
ULRIKE SCHMIEDER:
The Remembrance of Enslavement in the Atlantic Ocean Space in Postcolonial Port Towns
Barcelona and Cadiz, Havana and Matanzas
LILLI HASCHE, JANNE JENSEN:
The Colonial Making of Bremen's Peri-Urban Port Area
Oceans and Identity
GIGI ADAIR:
Archipelago-izing or Re-continentalizing Africa
Oceanic Paradigms in Two Recent West African Novels
FRANK SCHULZE-ENGLER:
From British Lake to Afrasian Sea
Recalibrations of the Indian Ocean in Yvonne Adhiambo Owuor's "The Dragonfly Sea"
ARNAB KUMAR SINHA:
Mapping the Relationship between the Sea and the Humans
The Symbolic Sea in Mallika Krishnamurthy's "Six Yards of Silk"
IRIS-AYA LAEMMERHIRT:
"How Much of Me Is My Own?"
Imagining the Ocean in Thi Bui's "The Best We Could Do"
STEPHEN HENIGHAN:
Transcontinental Waters
The Anti-postcolonial Tide in Angolan Fiction and Film
Oceans and Responsibility
ROZENA MAART:
Meditations on the Sea and its African Subjects
SUKLA CHATTERJEE:
"Water is Another Country"
Waterscapes and the Refugee Crisis
MARLENA TRONICKE:
"Keep the secrets of the past buried"
"Taboo"'s Taboo's Salt Water Hauntings
OLUSEUN ADEKUNMI TANIMOMO:
Waterscapes of Waste and Wealth
Environmental Pollution in Helon Habila's "Oil on Water"
ANNE COLLETT:
Building on the Strata of the Dead
The Culture of Coral Reef Ecologies
About the Authors