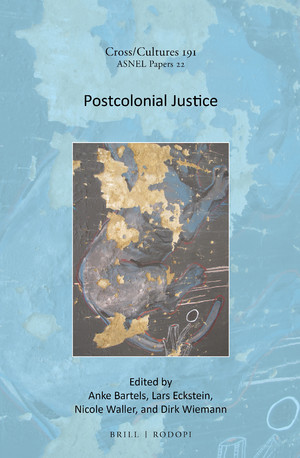 Postcolonial Justice.
ASNEL Papers 22.
Bartels, Anke, Lars Eckstein, Nicole Waller & Dirk Wiemann (eds.)
Brill Rodopi, Amsterdam/New York, NY, 2017.
Postcolonial Justice addresses a major issue in current postcolonial theory and beyond, namely, the question of how to reconcile an ethics grounded in the reciprocal acknowledgment of diversity and difference with the normative, if not universal thrust that appears to energize any notion of justice. The concept of postcolonial justice shared by the essays in this volume carries an unwavering commitment to difference within and beyond Europe, while equally rejecting radical cultural essentialisms, which refuse to engage in "utopian ideals" of convivial exchange across a plurality of subject positions. Such utopian ideals can no longer claim universal validity, as in the tradition of the European enlightenment; instead they are bound to local frames of speaking from which they project world.
Table of Contents
ANKE BARTELS, LARS ECKSTEIN, NICOLE WALLER & DIRK WIEMANN: Postcolonial Justice: An Introduction
DECOLONISING REGIMES OF KNOWLEDGE
DAVID TURNBULL: Postcolonial Injustice: Rationality, Knowledge and Law in the Face of Multiple Epistemologies and Ontologies: A Spatial Performative Approach
JAMES ODHIAMBO OGONE: Epistemic Injustice: African Knowledge and Scholarship in the Global Context
ANINDYA SEKHAR PURAKAYASTHA & SASWAT SAMAY DAS: Shakespeare in Dantewada: Rescuing Postcolonialism through Pedagogic Reformulations and Academic Activism
MAHMOUD ARGHAVAN: Postcolonial Orientalism: A Study of the Anti-Imperialist Rhetoric of Middle Eastern Intellectuals in Diaspora
LITERARY TRIALS OF JUSTICE
FRANK SCHULZE-ENGLER: Poetic Justice? Christopher Okigbo, Dedan Kimathi and Robert Mugabe on Literary Trial
LOTTE K?-ßLER: A New Reading of Wulf Sachs' Black Hamlet (1937)
KIRSTEN SANDROCK: The Poetics of Justice in Salman Rushdie's Joseph Anton: A Memoir: Narrative Construction and Reader Response
CHRISTINE VOGT-WILLIAM: HeLa and The Help: Justice and African American Women in White Women's Narratives
RE/VISIONS OF GENDERED VIOLENCE
JULIA HOYDIS: A Darker Shade of Justice: Violence, Liberation, and Afrofuturist Fantasy in Nnedi Okorafor's Who Fears Death
BEATRIZ PÉREZ ZAPATA: An Endless Game: Neocolonial Injustice in Zadie Smith's The Embassy of Cambodia
KARIN IKAS: Slavery and Resilience in Caryl Phillips's Novel Cambridge
(Post)Imperial Orders of Travel and Space
LIANNE VAN KRALINGEN: Justice and the Company: Economic Imperatives in The Journal of Jan van Riebeeck (1652-1662)
PRUDENCE BLACK: The Speed of Decolonisation: Travel, Modernisation and the 1955 Bandung Conference
MONICA VAN DER HAAGEN-WULFF: De-cloaking Invisibility: Remembering Colonial South-West Africa
Justice within and without the Law
Carly McLaughlin: 'It's All about the Children': Child Asylum Seekers and the Politics of Innocence in Australia
HANNA TEICHLER: Aspirin or Amplifier? Reconciliation, Justice, and the Performance of National Identity in Canada
JENS TEMMEN: 'So It Happens that We are Relegated to the Condition of the Aborigines of the American Continent': Disavowing and Reclaiming Sovereignty in Liliuokalani's Hawaii's Story by Hawaii's Queen and the Congressional Morgan Report
NOTES ON CONTRIBUTORS