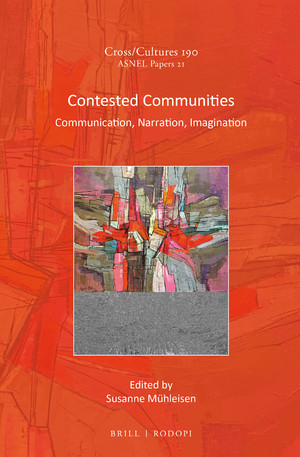 Contested Communities.
Communication, Narration, Imagination.
ASNEL Papers 21.
Mühleisen, Susanne (ed.)
Brill Rodopi, Amsterdam/New York, NY, 2017.
This interdisciplinary volume investigates com-munity in postcolonial language situations, texts, and media. In actual and imagined communities, membership assumes shared features – values, linguistic codes, geographical origin, gender, sexuality, ethnicity, religion, professional interests and practices. How is membership in such communities constructed, manifested, tested or contested? What new forms have emerged in the wake of globalization, translocation, and digital media? Contributions in linguistic, literary, and cultural studies explore the role of communication, narratives, memory, and trauma in processes of (un)belonging.
One section treats communication and the speech community. Here, linguistic contributions investigate the concept of the native speaker in World Englishes, in socio-cultural communities identified by styles of verbal duelling, in diaspora communities, physical and digital, where identification with formerly stigmatized linguistic codes acquires new currency. Divisions and alignments in digital communities are at stake in postcolonial African countries like Cameroon where identification with ex-colonizer and ex-colonized is a hot issue. Finally, discourse communities also exist in such traditional media as newspapers (e.g., the Indian tabloid in English).
In a section devoted to narrative and narration, the focus is on literary perspectives – post-colonial memory, trauma, and identity in Caribbean literary works by David Chariandy and Pauline Melville and in Australian Aboriginal fiction; narratives of banditry in colonial India; xenophobia and urban space in South Africa; human-animal community crossings and anthropomorphism in Life of Pi.
A third section, on linguistic crossings in transnational music styles in global and Ugandan music industries, examines language, style, and belonging in music cultures. The volume closes with a controversial debate on the agendas of academic/non-academic and postcolonial/Western communities with regard to homophobia in Jamaican dancehall culture.
Table of Contents
I: ON COMMUNITY
SUSANNE MÜHLEISEN: Introduction: On Community Formation, Manifestation, and Contestation: Acts of Membership and Exclusion
ROBERT JC YOUNG: Community and the Common
II: COMMUNICATION AND THE SPEECH COMMUNITY
STEPHANIE HACKERT: The Native Speaker in World Englishes: A Historical Perspective
DARIA DAYTER: Orality and Literacy in Verbal Duelling: Playing the Dozens in the Twenty-First Century
SUSANNE MÜHLEISEN & ANNE SCHR?-DER: Prestige Change in Contact Varieties of English in Urban Diaspora Communities
ANDREA MOLL: Diasporic Cyber-Jamaican: Stylized Dialect of an Imagined Community
ERIC A. ANCHIMBE: 'Africa is not a Game': Constructions of Ex-Colonized and Ex-Colonizer Entities Online
DAGMAR DEUBER: The Indian Tabloid in English: What Type of Community Does It Speak To, and How?
III: NARRATING ACROSS THE NATION
TOBIAS D?-RING: Thuggee: Thornton, Taylor and the Literature of Banditry in Colonial India
Katja Sarkowsky: Haunting Conflicts: Memory, Forgetting, and the Struggle for Community in David Chariandy's Soucouyant
JOCHEN PETZOLD: Whose Hillbrow? Xenophobia and the Urban Space in the 'New' South Africa
STEPHAN LAQUÉ: Orientation and Narration: Aboriginal Identity in Nugi Garimara's Follow the Rabbit-Proof Fence
ROMAN BARTOSCH: A 'furry subjunctive case' of Empathy: Human-Animal Communities in Life of Pi and the Question of Literary Anthropomorphism
SUSAN ARNDT: Migration, Rhizomic Identities, and the Black Atlantic in Postcolonial Literary Studies: The Trans-Space as Home in Pauline Melville's Short Story "Eat Labba and Drink Creek Water"
IV: LANGUAGE,STYLE, AND BELONGING INMUSIC CULTURES
BRITTA SCHNEIDER: Community and Language in Transnational Music Styles: Symbolic Meanings of Spanish in Salsa and Reggaetón
JUDE SSEMPUUMA: Language Crossings in Transnational Music Cultures: Bottom-Up Promotion of Kiswahili Through the Music Industry in Uganda
V: COUNTER-ARGUMENT
CAROLYN COOPER: Cross Talk: Jamaican Popular Music and the Politics of Translation
CAROLINE KOEGLER: At Whose Cost? A Critical Reading of Carolyn Cooper's Keynote Lecture "Cross Talk: Jamaican Popular Music and the Politics of Translation"
Notes on Contributors