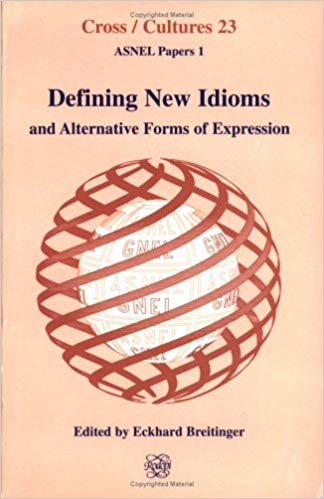 This first volume of ASNEL Papers gathers together a broad range of reflections on, and presentations of, the social and expressive underpinnings of post-colonial literary cultures, concentrating on aspects of orality, social structure and hybridity, the role of women in cultural production, performative and media representations (theatre, film, advertising) and their institutional forms, and the linguistic basis of literature (including questions of multilingualism, pidgins and creoles, and translation). Some of the present studies adopt a diachronic approach, as in essays devoted to European colonial influences on African literatures, the populist colonial roots of Australian drama, and the intersection of exogenous and autochthonous languages in the cultural development and identity formation of Cameroon, Tanzania and the Swahili-speaking regions of Africa. Broadly synchronic perspectives (which nevertheless take cognizance of developmental determinants) range over dominant genres — poetry, short fiction and the novel, children's literature, theatre, film – and cover indigene literatures (Australian Aboriginal, Maori, First Nations) and regional creativity in West, East and South Africa, the Caribbean, India and the South-East Asian diaspora, and the settler colonies of Canada, Australia and New Zealand. Authors treated within broader frameworks include Chinua Achebe, 'Biyi Bandele-Thomas, Bole Butake, Shashi Deshpande, Louis Esson, Lorna Goodison, Patricia Grace, Bland Holt, Keri Hulme, Witi Ihimaera, Kazuo Ishiguro, Rita Kleinhart, Hanif Kureishi, Werewere Liking, Timothy Mo, V.S. Naipaul, Salman Rushdie, and Ruby Slipperjack. There are self-testimonies from the writers Geoff Goodfellow, Darrelyn Gunzburg and Don Mattera, poems by David Dabydeen, Geoff Goodfellow and Olive Senior. Of particular value to this collection are the perspectives offered by African, Caribbean and Eastern European contributors.
Table of Contents
Acknowledgements.
Introduction.
Eckhard BREITINGER: Heretical Deliberations on Poet's Corner, the Great Tradition and the New Literatures in English.
Geoff GOODFELLOW: Young Men of Bayreuth.
Don MATTERA: Defining New Idioms and Alternative Forms of Expression. Keynote Address.
I REDISCOVERING THE IDIOM OF ORALITY.
Olive SENIOR: Gardening in the Tropics No 3 (My Father's Blue Plantation).
Peter H. MARSDEN: Reading the Oral. Approaching Aborigine and Maori Poetry.
Emilio Jorge RODRÍGUEZ: Oral Tradition and New Literary Canon in Recent Caribbean Poetry Anthologies.
Margery FEE: Discourse Conventions in Fourth-World Fiction in English. The Examples of Ruby Slipperjack, Patricia Grace and Witi Ihimaera.
Detlev GOHRBANDT: The Principle of Inclusiveness. Reflections on Writing and Speaking in Contemporary Nigerian Fiction.
Abiola ODEJIDE: The Nigerian Children's Literary Scene. A view from Inside.
Thomas BRÜCKNER: When Europe Came to Africa. The Languages of African Literatures.
II HOW NEWNESS COMES INTO THE WORLD.
Olive SENIOR: Gardening in the Tropics No 12 (Advice and Devices).
Swenta STEINIG: Houses: To Build is to Demolish. A Study of Salman Rushdie's Shame and Shashi Deshande's Roots and Shadows.
Klaus H. B?-RNER: Salman Rushdie, The Satanic Verses. Observations on Cultural Hybridity.
Silvia MERGENTHAL: Acculturation Processes And Family Structures. Mo's Sour Sweet, Kureishi's The Buddha Of Suburbia, Ishiguro's A Pale View Of Hills.
III DEFINING WOMEN AUTHORS' PERSPECTIVES.
Darrelyn GUNZBURG: As the Spirit Moves.
Ann-Mari HEDBÄCK: Keri Hulme: Scriptwriter and Storyteller.
Nalova LYONGA: African Women and Feminist Theory.
Viera PAWLIKOWA-VILHANOWA: Women in African Literatures.
Robert KROETSCH: The Poetics of Rita Kleinhart.
IV PERFORMANCE TRADITIONS & MEDIA EXPERIMENTATION.
Geoff GOODFELLOW: Poet, Thief or Greenie.
Katherine NEWEY: Popular or Populist? The Great Australian Theatre Debate.
Rose MBOWA: Trends in Ugandan Theatre since 1965.
Gordon COLLIER: Iconic Mythography. The Mediation of Cross-Cultural and Literary Topoi in the New Zealand Film.
Eugene P. WALZ: Alternatives at/to the National Film Board of Canada.
J. Varela ZAPATA: This is the Voice of Society. The Influence of New Forms of Collective/Mass Communication in the Work of V.S. Naipaul.
V MOTHERTONGUES & MASTERTONGUES.
David DABYDEEN: Excerpts from Turner ("Slaves thrown overboard").
Christian MAIR: The Treasures of Whose Tongue? The Language Issue in Caribbean Fiction.
David TIOMAJOU: Language and Languages in Cameroon. A Diachronic View.
Mikhail Gromov: Linguistic Situation and the Rise of Anglophone Literature in Tanzania.
Vladímir KLÍMA: Nigerian Pidgin English. A Translator's View.
Andrei ZHUKOV: The Role of Translation in Swahili Literature.
Contributors.