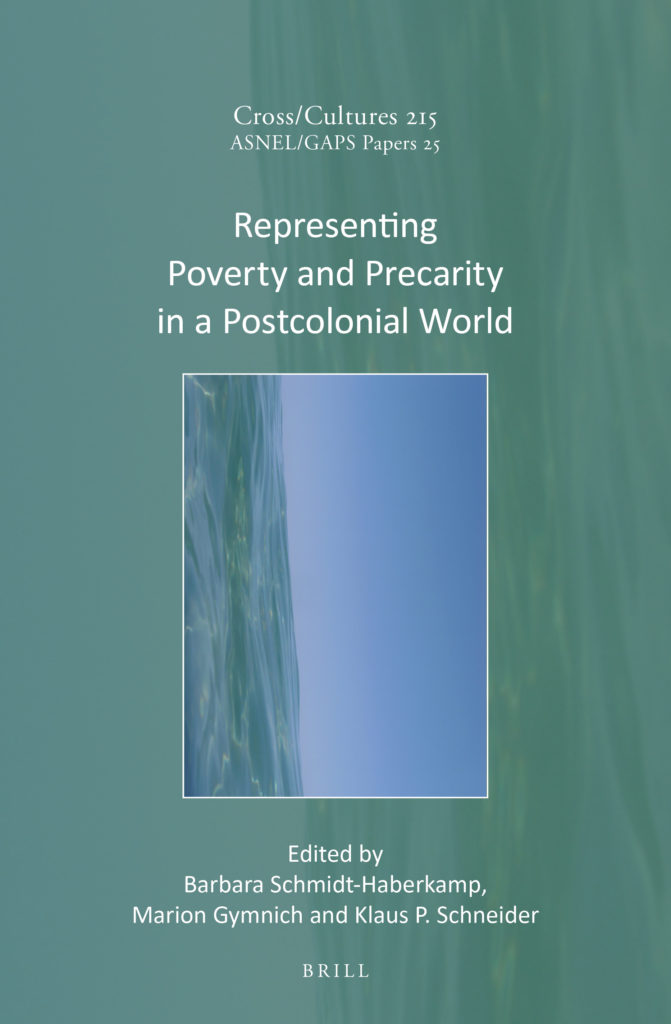 Representing Poverty and Precarity in a Postcolonial World.
ASNEL/GAPS Papers 25.
Schmidt-Haberkamp, Barbara, Marion Gymnich and Klaus P. Schneider (eds.)
Brill Rodopi, Leiden/Boston, 2022.
Poverty and precarity are among the most pressing social issues of today and have become a significant thematic focus and analytical tool in the humanities in the last two decades. This volume brings together an international group of scholars who investigate conceptualisations of poverty and precarity from the perspective of literary and cultural studies as well as linguistics. Analysing literature, visual arts and news media from across the postcolonial world, they aim at exploring the frameworks of representation that impact affective and ethical responses to disenfranchised groups and precarious subjects. Case studies focus on intersections between precarity and race, class, and gender, institutional frameworks of publishing, environmental precarity, and the framing of refugees and migrants as precarious subjects.
Table of Contents
Notes on Contributors
BARBARA SCHMIDT-HABERKAMP AND MARION GYMNICH:
Representing Poverty and Precarity in a Postcolonial World
An Introduction
PART 1
Media, Performance, Genres
CLELIA CLINI: Poverty, (Neo)orientalism and the Cinematic Re-presentation of 'Dark India'
GEOFFREY V. DAVIS: "Performing with What Little They Have"
Street Theatre in the Slums of Ahmedabad
DOROTHEE KLEIN: Overcoming the 'Crisis of Nonrelation' through Formal Innovation
Aboriginal Short Story Cycles
PART 2
Intersectional Approaches
SUE KOSSEW: Precarious Lives in Tony Birch's Common People (2017)
MARYAM MIRZA: Diasporic Female Precarity and Agency in Sunjeev Sahota's The Year of the Runaways
ANNA LIENEN: Narrating the 'Black Male Underclass'
The Ethics and Aesthetics of Coming into Representation
JULIA HOYDIS: Breaking the Cycle of Heathcliff
Precarious Subjects from Emily Brontë to Caryl Phillips
PART 3
(Publication) Politics and Precarity
SUSAN NALUGWA KIGULI: Voices of Ugandan Women Writers
Positioning FEMRITE since 2006
SULE EMMANUEL EGYA: Poverty, Precarity and the Ethics of Representing Africa
PART 4
Environmental Precarity
MALCOLM SEN: Sovereignty at the Margins
The Oceanic Future of the Subaltern
JAN RUPP: Plantation and Planet
Environmental Precarity in Anglophone Caribbean World Writing
PART 5
Representing Refugees and Immigrants
J. U. JACOBS: Narrative Zones of Refuge in The Lost Boy by Aher Arop Bol and A Man of Good Hope by Jonny Steinberg
JULIAN WACKER: "Bringing the Wisdom of Wall Street to Limbe"
Precarity and (American) Dream Narratives in Imbolo Mbue's Behold the Dreamers
ANDREAS MUSOLFF: The Scenario of (Im-)Migrants as Scroungers and/or Parasites in British Media Discourses
JANET M. WILSON: Narrating Precarious Lives Refugee Tales, African Titanics, and The Year of the Runaways
Index